Today's guest blogger is Cindy of Raspberry Sunshine.
Cindy is an incredibly talented bag maker, bag designer, sewist and blogger. I met Cindy through pattern testing for Sew Sweetness and I have always been blown away by the incredibly gorgeous bag she makes. She has also designed her own bag pattern The Diane Tote: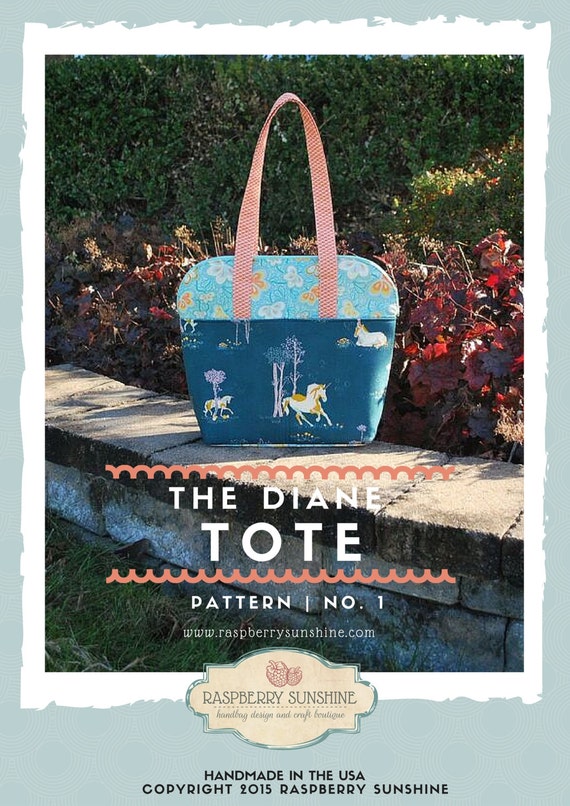 Cindy's blog is a fantastic resource for all sewists, but especially fellow bag lovers. She offers various tutorials and helpful tricks to step up your bag game.
In addition to designing and blogging, Cindy also has an
Etsy
shop that features fabrics and handcrafted bags for sale.
...................................................................................................................................................................
To me, straps are one of the most important parts of a handbag. Not only do they need to be comfortable enough to hold by hand, arm or shoulder, they will be carrying A LOT of your bag weight. So making your straps long lasting is very important!
If you are following a well written pattern, the designer has (hopefully) included strap instruction best suited for the design. But if you are drafting a pattern of your own or maybe want to go rogue and modify the straps in a pattern, give these options a try!
** Tools I have on hand when making
any
sort of strap: Dead Blow Hammer (pounds the heck out of a thick area!) , Scrap Cloth (put down before hammering), Fabri-Tac, Iron, Clips.
Fabric
- One of the most popular methods of making straps at any skill level is what I call the double fold method. This works best for most fabric types. The thinner to mid-weight fabrics will need a piece of fusible interfacing along with it ( I use SF101) to add stiffness. The thicker home decor or upholstery weights usually don't.
To figure out finished width I take the finished width I want and multiply by 4". Example: If you would like a 1″ strap, you need to cut your fabric 4″ wide.
Fold length of fabric strip in half and press to create a fold line.

Open fabric strip. Take each long unfinished end and fold it towards the center and press.

From step 3, fold in half lengthwise again and press.
From here, I typically stitch 1/8" from each end to finish, but a nice double stitching on each side or every 1/4" or so works great too!
Once you make a strap like this, you can attach it many ways. Rivets, Grommets, Sewn into the bag itself, or sewn on top of the exterior. The possibilities are endless.
Below, I used a tab with a rectangle ring to attach my strap. This is popular for cross body straps (On Left). To avoid an unfinished look on my strap ends, I tucked each short end in 1/4" and pressed before I folded the fabric. From there I just loop it through the ring and stitch an "X" to finish it off.
Another very popular method of strap attachment is this type of tab (On right) This is sewn onto the front of your bag where the straps will go through the top of the ring and stitched or riveted to secure.
Go thrifting!
Yes, some bags may be old and crusty, but that doesn't mean their straps are!! Take apart that old unused bag and reuse! This option works best for vinyls, leather or webbing that can be easily cleaned up. (Get the hardware too while you're at it!!)
Webbing
- Easy to purchase in most craft stores in a variety of sizes (the pic on the right is a 3pk belt from TJMAXX!), webbing is a great option for any bag that will be seeing a lot activity (Large totes, beach bags, backpacks, etc). I typically use a thicker cotton when I use webbing on handbags but the Poly and Nylon are great solid options. Note that most webbing will need some sort of fray-check, glue or fold under technique to seal edges.
Wooden
- These are harder to find, but I have seen many styles at our local JoAnn's and online. Unless your pattern includes how to attach these, wooden handles will require some sort of tab, hardware or fabric piece that will ultimately wrap around the area then be stitched into the bag.
Leather
- Oh, how I love leather!! If you're looking for a classy and simple strap to use on your bag give leather a try! You can sew it into the top of your bag or if you are comfortable with rivets, a double cap rivet (or two) can be used to secure it to your work. Leather can be a bit stiff to work with, but softens as it ages.
Straps can be purchased ready to use, or you can cut it to your desired length and width. How about that thrifting you did? A nice softened leather belt can be cut down to make great straps too!
* WARNING!* Practice before you sew. Leather does not forgive. Sew slow and take your time and if you can, practice with scraps before starting a big project.
Vinyls of all sorts are the 'big thing' right now in handbag design. Marine Vinyl, Glitter Vinyl, Upholstery Vinyl. All are readily available online and in stores (Glitter is a little trickier!) The success of vinyl products in your handbags depends on these : Needle size, Thread size, Walking Foot or Roller Foot and thickness of vinyl.
Your specific machine (instruction guide) will tell you what it needs for needles and feet, but when you sew with vinyl thread typically is a bit tougher and thicker. Gutterman Upholstery Thread and Bonded Nylon tend to be my go-to, but your machine may require different.
* WARNING!* Practice before you sew. Leather does not forgive. Sew slow and take your time and if you can, practice with scraps before starting a big project.
This is my go-to tutorial for vinyl straps. I've been using it for years and it never fails.
Thanks for stopping by today for the IITBS! I know many of you have used or seen these techniques, so do you have any tried and true tricks for strap construction? What is the most unique material you've used for straps?